U.S. Christian Chamber, SWC 2024, Business Expo and Global Conference
4/18/2024 - 4/19/2024
Description
Spiritual World Citizens

Doing Business From the Inside Out
Kingdom + Business = A Global Conference and Expo You Cannot Afford To Miss!
The U.S. Christian Chamber, SWC 2024, Business Expo and Global Conference is bringing in experts from around the world to help the Christian business community root our companies in Christ and influence the way the world conducts business.

From business owners to executives to rank-and-file employees, we as believers have access to the greatest advantage in business and life, yet we're not tapping into it. Instead, too many of us are doing business from the outside in.
When operating in the flesh, we flounder with identity, purpose, wisdom, discernment, strategic insight, peace, strength, and resilience. These intangibles are the fruit of being in relationship with Jesus Christ.
Imagine an engaged workforce proudly exhibiting high levels of these internal factors, essentially operating from the inside out. How great would that company be?
The things that give you an edge over other companies in your field are often intangibles that can't be measured. How do you discover, implement and manage those intangibles to position your company and its leadership for the ultimate competitive advantage?
That critical question and so much more will be answered at the SWC 2024 Conference and Expo.
Doing business from the inside out is how believers will gain a competitive advantage, birth new companies, and strengthen Kingdom commerce across the globe. Once business owners invite Christ into their business through the Holy Spirit, they will experience signs, miracles, and wonders only explainable by God.
Through keynotes, Ted-style talks, breakout sessions, a panel discussion, a national recording artist, daily worship and prayer, an active expo hub, and a few surprises, attendees will learn how 1 Corinthians 3 guides business owners to operate a business only explainable by God.
Christian businesses operating with the fruits of the spirit, excellence, and ethics will catalyze local, national and global transformation.
To be one of the 650 Spiritual World Citizens experiencing this conference, secure a spot for your entire team now, and learn the inherent value of doing business from the inside out.
---
Stay and play In Sunny Orlando!

Book Your Hotel At a VERY Special Rate!
---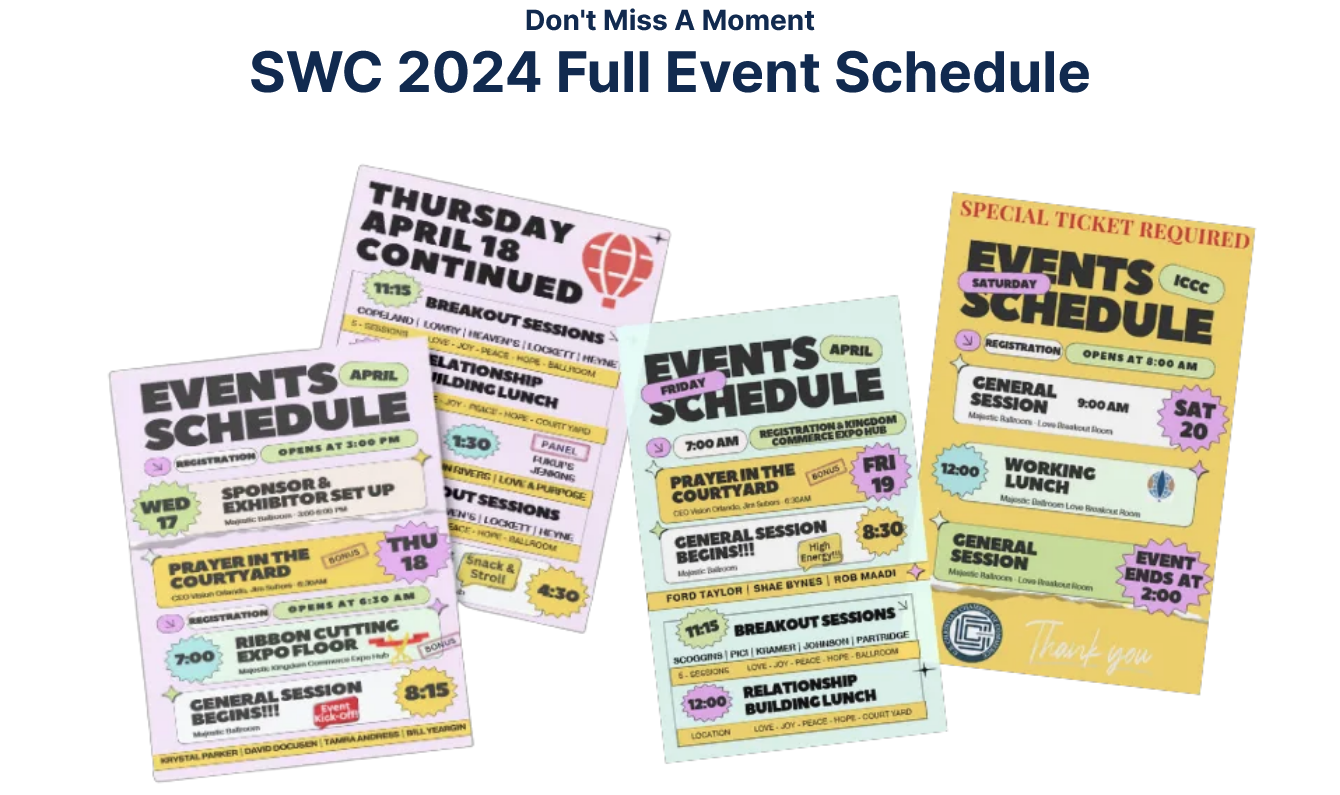 ---
Stick Around with the International Christian Chamber of Commerce, USA.


---
Don't Take Our Word For, Here Are Just A Few Reviews From God's Economy 2022.
Click To Watch God's Economy 2022 Highlight Reel

"This was such a refilling my cup event. It was so needed and I loved it. This is needed for all business owners."
"The Expo was well organized and packed with valuable experiences. I made many amazing connections."
"My encounter happened during the wrap-up, seeing how God loves us so much. Everything tied together perfectly. I feel empowered and ready to be a Kingdom leader, creating God's economy."
"Prior to the event I prayed for God to make divine appointments with me. I asked him to bring people to me that I needed to connect with. HE DID EXACTLY THAT!! Prayer answered many times over."
"I had a great time chatting with my fellow Believers! It was so great to have so many like-minded people in one place!"
"So many takeaways from this incredible event! Why must I choose one? I took away amazing relationships leaving this event! Also, I believe God really does want us to be successful. When we succeed, we add to God's economy, and He receives all the glory."
"God was at every turn at this event."
"I connected with many potential partners throughout the expo."
"I was encouraged to see so many Christian business people, and not just Christian in name, but ON FIRE for God and making a change in this world for Him!"
"Well worth the investment, both as an attendee and an exhibitor! Will be back next year!"
"Unity within the business leaders. There is such a hunger all around us, and this event allowed us to express freely how we as leaders can use our businesses to expand the kingdom."
---
Sponsors
Kingdom Sponsorship (Only 1)
SWC 2024 Evening Reception Sponsorship (Only 1)
National Business Sponsorship
Community Sponsorship
Conference SWAG Bag Sponsorship (Only 1)
Expo Exhibitor Sponsor
Images
Orlando Florida Location Coming Soon



Orlando

,

FL

United States



4/18/2024 - 4/19/2024
Full Event Schedule Coming Soon
Keynotes
Ted Style Talk
Breakout Sessions
Panel Discussions
National Recording Artist
SWC 2024 Evening Reception
Worship, Prayer, Community & More!